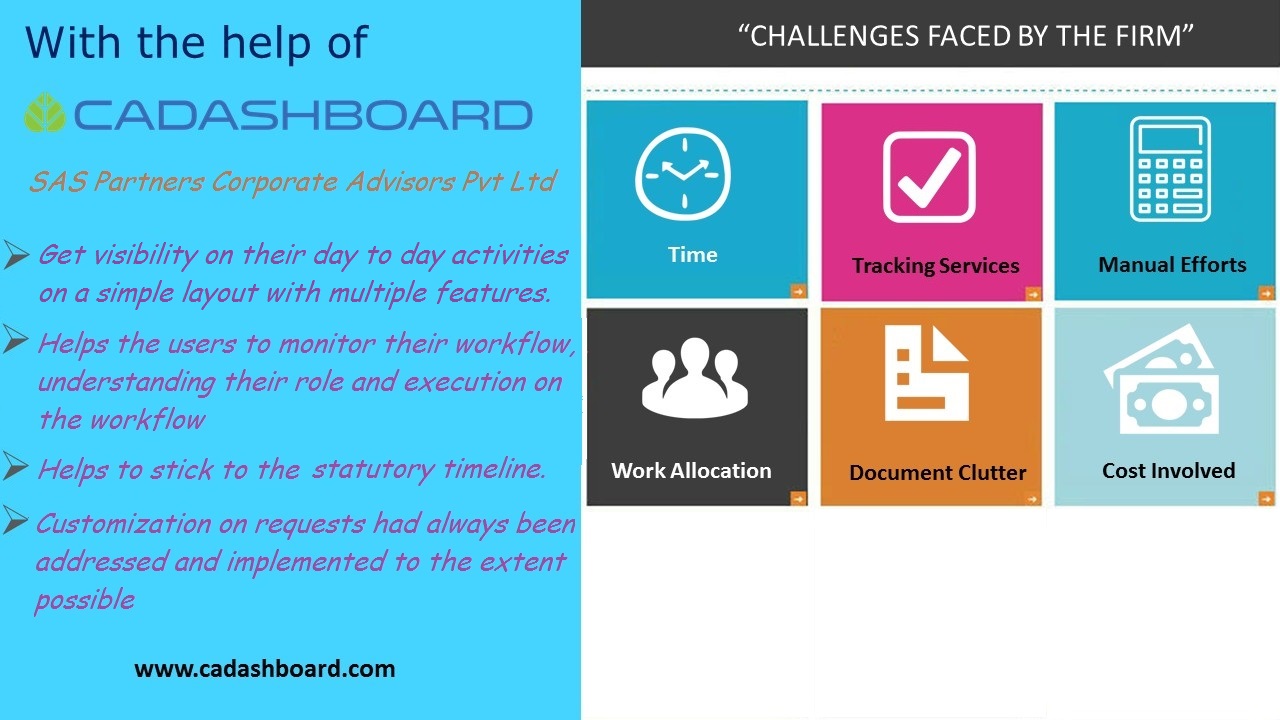 CA Dashboard – Creates visibility to any organization
This Workflow management Software used across the globe helps any organization to get visibility on their day today activities on a simple layout with multiple features, minimum inputs to effective reports, prompt and continuous support an affordable cost.
We SAS Partners started using this software way back in 2014 and have seen constant progress in terms of user's Interest, utilization and the outcome to our Organization.

The day to day work is excellently fed to the system which helps the users to monitor their workflow, understanding their role and execution on the workflow prioritize to match the requirements from the client and stick to the statutory timeline.

We predominantly use it for capturing Client details, sending out standard quotes to our clients, assigning tasks within the organization and generating periodical reports on task completion. Yet to explore other features available on CA Dashboard, however customization on requests had always been addressed and implemented to the extent possible. A big Thank you to the CA Dashboard team for their remarkable support.
- Sudha baskar [Manager - Operations (SAS Partners Corporate Advisors)]
SAS : How our team views on CA Dashhoard ?
Ishwarya,Team Leader says " CA Dashboard is an effective tool to manage the operational workflow and to trace the efforts enabling efficient monitoring of the System".
Athasi,Team Leader states that "CA Dashboard helps to a great extent in being organized. Also plays a vital role in supporting our mission".
Jafeel, Team Leader feels that increasing the processing speed of CA Dashboard may turn this to an userfriendly tool.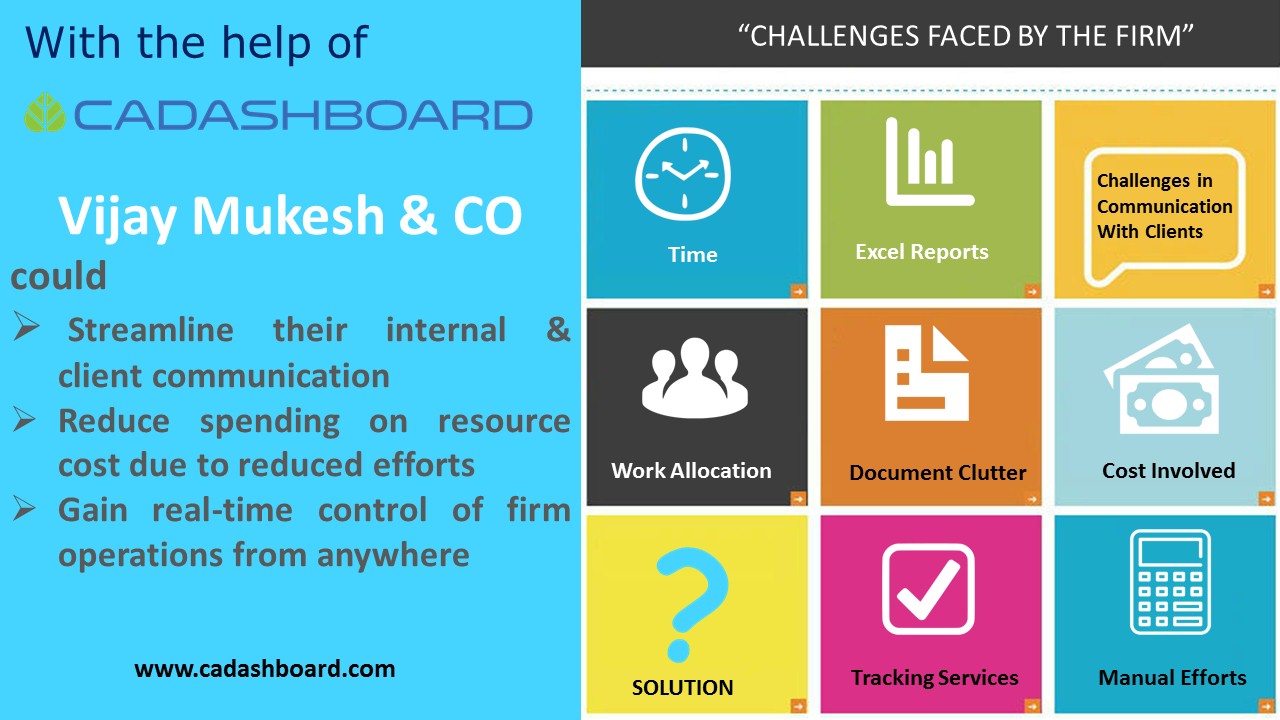 About the Firm:
Vijay Mukesh & Co is a leading accountancy firm rendering comprehensive professional services which includes audit management consultancy, tax consultancy, accounting services, manpower management, and secretarial services and holds almost 20 years of rich experience in serving clients from various industries.

Firm represents a combination of specialized skills which are geared to offer sound financial advice and personalized proactive services.
"Typically a CA Firm has to work on different projects at same time. Thus, keeping track of jobs and time spend on each task, is very challenging."

- Vijay Aggarwal (CA Partner)
---
Need of Tracking:
Firm is committed to:
Place the interest of clients before theirs
Upholds high standards of honesty & integrity
Endeavor to improve the quality of services
Excellence in professional services
Thus it is essential to maintain a certain standard of quality while matching deadlines.
"Before CADashboard we were allocating jobs manually. Even reports were getting prepared using excel sheets for all our employees. It was all manual process to assess the productivity which always fell short of giving a clear picture."

- Mukesh Jain (CA Partner)
Solution Provided by CADashboard:
Vijay Mukesh & Co is one of the leading firm from delhi, was in search of solutions which can address the problems above.
When they came across CADashboard they could see the complete solutions for their problems.

Partners of Vijay Mukesh & Co. gone through CADashboard Demo and decided to implement CADashboard.
Key to increasing Productivity and Profitability
Cadashboard enabled Vijay Mukesh & Co to :
Centralize customer communication.
Tracking the status of projects and jobs.
Customer invoice and payments status.
Access to work from anywhere anytime.
Reduction of manual efforts in tracking activities.
Tracking the productivity of articles.
Centralize document storage.
Quality Assurance about product deliverables.
Over all CADashboard has helped Vijay Mukesh & Co to get the full control of Operations & Cash flows.